Merton College
Lovely Merton College library (below) has the ghost of poor Colonel Francis Windebank, a Royalist who was executed by his own side in 1645, during the English Civil War.


It's a sad story. 
Windebank was a young, newly married colonel in the Royalist army  and was appointed governor of Bletchingdon Park, near Oxford (below).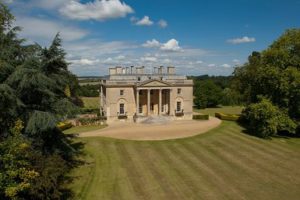 In April 1645 he invited his young wife and friends for a ball at the house to raise their spirits (not the ghostly kind).  But a
 Parliamentarian spy may have been present, as during the ball the house came under attack by Cromwell's forces. 

The house was well protected, and probably could have withstood the attack, but Windebank surrendered immediately. It is likely that he did so in order to protect the lives of his wife and friends.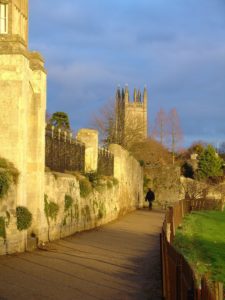 Windebank went to explain to the King in Oxford (where the King had his headquarters), but his excuses were not accepted and he was tried by a Royalist court-martial for failing to protect Bletchingdon Park.
They took just three hours to find him guilty and sentence him to death by firing squad.
His execution took place against the length of town wall abutting Merton College. Windebank bared his chest to the muskets and exclaimed "God Save the King."


Windebank's ghost haunts the site of his execution at Dead Man's Walk, (above) which abuts Merton College, and has also been seen in the college library.

He's a well known Oxford ghost, and is thought to haunt because of his lingering feeling of injustice at being executed for what he considered a chivalrous action.

It is also said that Colonel Windebank walks around on his knees. Rational thinkers (?) say that it is more likely that he is walking on the original (lower) ground level of the seventeenth century.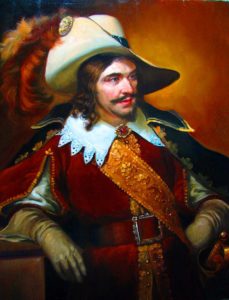 I couldn't find a picture of poor Francis, but here's a generic Royalist Cavalier, so if you're wandering along Dead Man's Walk, you'll know what to look for.
Wadham College